Before you begin your very own campervan adventure, it's important to know what sort of campervan conversion is right for you by understanding our campervan models. 
All of our van conversions are based upon high specification models from Japan, which we import specifically to be converted into fantastic campervans. 
This blog will give you a brief overview of the three models we stock here at Free Spirit Campervans to understand each fantastic campervan better before you set off on your next adventure!
Mercedes Viano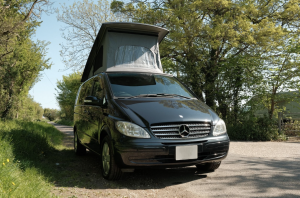 The Mercedes Benz Viano campervan builds off of the reliability and style of the Viano. Inside, there is enough space for up to six passengers (with the optional addition of 2 extra rear seats), making it into a true family campervan. 
You'll find standard UK plug sockets fitted in the bespoke side units powered by our excellent leisure batteries. 
Our Viano conversion features a pop-up roof and rock and roll bed as standard, as with all our models, as well as front swivel seats that allow you to make the most of the comfortable living area inside the cabin. 
Whether you're nestled in the Scottish highlands or overlooking the Pembrokeshire coast, the Viano is a truly comfortable place to be!
To learn more, visit the Viano page. 
Nissan Elgrand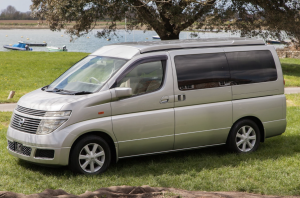 Our Nissan Elgrand campervan conversions build off of the hugely successful Elgrand van. These vans are very popular in Japan, thanks to their classic styling and comfortable drive. In fact, many celebrities can be spotted driving around town in them! 
Unlike many campervan conversion specialists, both side doors can be opened on our vans, allowing ease of access and a convenient place to serve a tasty meal from the integrated kitchen that comes as standard with all our vans. 
The Elgrand is ready to take you on your next adventure, whether it's down the road to do the weekly shop or across the UK on a family trip!
To learn more, visit the Elgrand page. 
Mazda Bongo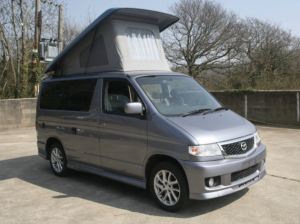 Mazda Bongo vans have been a favourite for countless years, having been responsible for kicking off the campervan craze in Japan many years ago. 
With our bespoke elevating roof, our Mazda Bongo campervan becomes a spacious home on wheels for you and your family. 
The Bongo is a wonderful van that can, along with our other campervan conversions, easily replace your daily car and become a lifelong companion!
To learn more, visit the Bongo page. 
Campervan specialist near me
Our team here at Free Spirit Campervans have been importing and converting high-quality vans from Japan for over ten years, and we know exactly how to get the most out of these excellent vehicles to ensure that they become a valued member of your family for many years to come!
Thanks to our expert knowledge, and experience working with these specific models, we are able to offer a range of dealership services:
Part exchange and warranty services

Full workshop facilities for servicing, MOTs, repairs and diagnostics

Personalised imports – sourcing any vehicle for order

Access to the largest database of import vehicles available now in the UK and Japan
We also greatly understand what makes these vans tick, and this means that when you buy from us here at Free Spirit Campervans, you can rest assured knowing that your vehicle is in excellent condition, ready to begin its new life as a campervan!
If you would like to enquire about one of our vans or book an appointment to come down and visit us at our site just outside of Chichester, then please get in touch today on 01243 649087 or via info@fscltd.co.uk; we look forward to seeing you soon!