With the hot weather and long days, summer is the perfect time to take to the road on your first campervan trip!
In this blog, we will share five of our top tips for new campervan owners to help you get the most out of your first campervan trip.
From campervan trip essentials to our suggestions for some of the best destinations, read on to find out how to make the most of your campervan adventures!
Planning
Before you set out on your trip, it's always a good idea to have a solid plan. The best campervan trips include planning where to go (for some ideas, check out another one of our latest blogs!) and an itinerary, especially when travelling with the kids! 
One of the best parts about travelling in one of our campervans is the fact that you can fit them down the same country lanes as a family car, meaning you don't need to worry about getting to your destination, whether it's down a narrow road in the Lake District, or up the Brecon Beacons.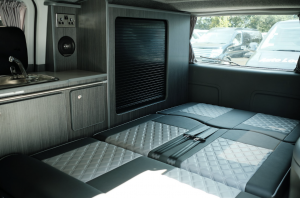 Pack the Essentials
Campervans are truly a home away from home, and taking advantage of this is key to having a great trip. All our Free Spirit Campervans come equipped with bespoke storage space, allowing you to bring all your home essentials for campervan day trips and beyond. 
We recommend bringing creature comforts like blankets and snacks to help you really feel at home when camped out beneath the stars! Gone are the days of needing uncomfortable sleeping bags and camping chairs – now you're living the campervan life!
Know the route…or don't!
As we mentioned before, it's always a good idea to have a destination in mind when setting off on your first campervan road trip. 
However, what if you decided not to?
One of our favourite things about owning a campervan is getting in and going, without actually needing to plan, like a regular holiday. 
With your Free Spirit Campervan ready and waiting, it's always great fun to hop in and hit the road without a solid plan. Maybe you fancy a trip to the Peak District or a few days exploring the mountain passes of Scotland?
With your campervan, you no longer need to work out train timetables and queue in airport waiting areas; adventure is right outside your door!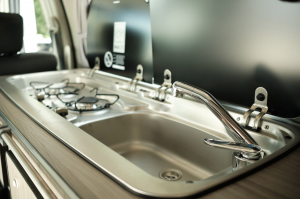 Cook in your Camper
All of our Free Spirit Campervans come equipped with an integrated kitchen so that you can cook up tasty meals on the road, no matter where you are! 
With running water and a twin gas burner hob, we recommend testing your cooking skills on your next trip. Who knows, you might just discover a new family favourite?
Bring great company
Last but certainly not least – great campervan trips are all about the company you bring with you! 
Whilst solo trips are always a great way to have new experiences, nothing beats hitting the open road with your friends or loved ones and sharing the adventure together. 
Our campervans are spacious enough for multiple passengers, and our Mercedes Viano model can be equipped with up to six seats!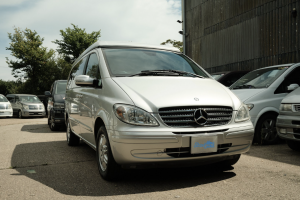 Your First Campervan Trip with Free Spirit Campervans
To find out more about our range of campervans, have a read of their individual pages:
Or get in touch with us today on 01243 649087 or at info@fscltd.co.uk to book a visit!