Nissan Elgrand
The Nissan Elgrand is a daily sight on the roads of Japan, known for being driven by local celebrities thanks to its laid back looks and luxury features.
Combining timeless style with the quality and reliability of the Nissan brand, our Nissan Elgrand campervan conversion is an extremely popular choice.
Inside, the Elgrand is spacious, with modern styling and the same great level of build quality as all of our vans. With enough room for the whole family, the Elgrand is perfectly at home as a daily driver or for tackling multi-day camping trips!
If you are looking for the perfect vehicle to suit your lifestyle, please get in touch to begin the journey towards your dream campervan.
Below you will find an explanation of the key features our Elgrand campervan conversions come with as standard. However, if you would like something that we haven't listed, please do get in touch as we are able to cater to a wide range of specifications. 
Call us on 01243 649087 to book a viewing!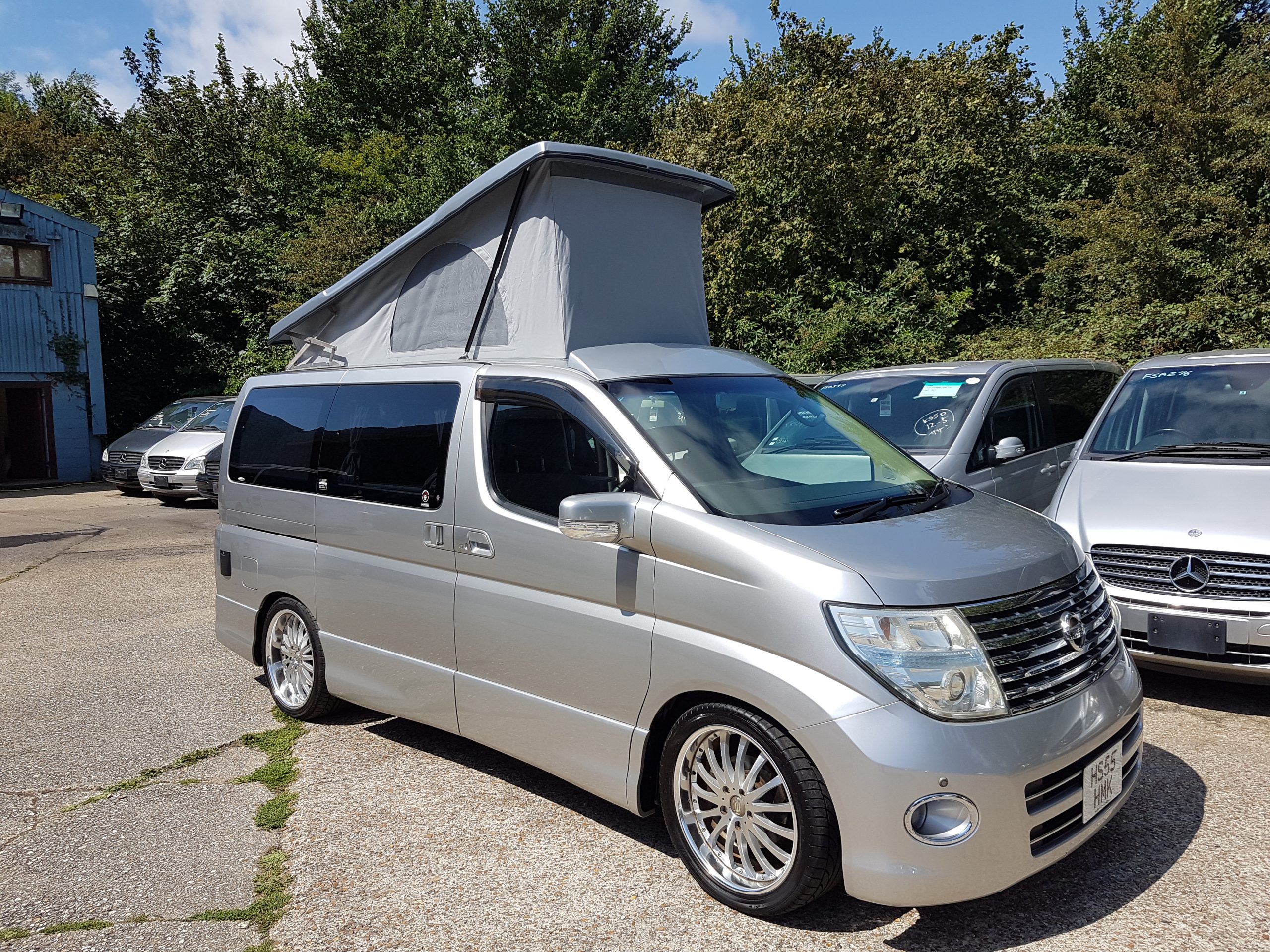 Ready For Adventure
A campervan is more than just a vehicle. It's a convenient way to break out of the daily routine, get in, and go! With a campervan, you are no longer confined by schedules and timetables, bad weather or country lanes – you have the freedom to make your own adventure. 
Many of our wonderful customers decided on our campervans because larger motorhomes are simply not as convenient or flexible. Not only are our campers perfect for adventures across the UK and beyond, but they are equally suited to a trip down to the local supermarket or even to drop the kids off at school. 
Simply put, a campervan is the perfect mix of home-away-from-home comfort combined with the practical features that come with owning a van.  
Bed
Our bespoke 'rock and roll' style beds are expertly made by our team to fit our campers precisely, making use of the interior space to maximise comfort as well as storage space.
The great thing about creating these beds bespoke is that it means we know exactly how to tailor them to each of our van designs.
These beds are fantastic as they can easily fold up into standard car seats when they aren't in use, with integrated seatbelts for safety and high-quality materials for added comfort.
Our team are able to upholster these seats in any material you'd like, including suede, leather, cotton and fuzzy fluff – to really make your camper your own!
As these beds are designed in-house, we're able to make them to our own specifications, meaning they are actually quite a bit larger than most other campervan beds whilst taking up the same amount of seating space as a standard van. Perfect for using the bench seats for seating and storage!
Construction
The consoles and cabinets in our campervans are all made from high-quality marine plywood, which is foil-backed to prevent delamination. Whilst this is a durable and long-lasting material, it is also significantly lighter than alternative materials.
These fittings are all made on-site and by hand by our expert team, who have a wealth of experience and know exactly how to get the most out of each of our vans.
We are able to supply it in 20 different colours, which, combined with our upholstery options, means you can really customise the interior of your van to your liking and make it your own.
Pop-up roof
The Elgrand is already a very safe vehicle, easily tackling whatever roads you drive it on, but our pop-up roofs actually help to strengthen the van even more!
Specially constructed from hard-wearing and weather-resistant materials, our pop-up roofs add to the structural integrity of our campervans whilst allowing you to accommodate up to 3 extra sleepers.
Our pop-up roofs are fabricated and installed by our expert team on-site to ensure that they fit your van exactly, keeping the warmth in and the rain out.
Kitchen
One of the best parts about owning a campervan is the ability to have a "home-away-from-home", and what home is complete without a kitchen?
Our campervans feature a spacious sink with running water and a 2-burner gas cooker as standard, so you can cook up a delicious meal no matter where you are.
Electrical 
Whether you are on a campsite with a hook-up or travelling the backroads of Wales, our campervan conversions are designed to enable you to feel at home with full mains power.
This is handled by our bespoke leisure battery unit, which provides 240v of power for you to use throughout your campervan, as well as powering the low-voltage LED lights which illuminate the interior for those evenings around the campfire.
Solar panels can be fitted as extra, too, allowing you to recharge the leisure battery whilst out and about. This option is great for those who like to take trips where electrical hook-ups are few and far between, and it provides extra peace of mind as you will always have power available for safety.
Optional Extras
Our campervans can come with a range of extras, enabling you to customise them to your specification.
Heating:
Whilst all of our campervans come fully insulated as standard, we are also able to add a full heating system, giving you that extra warmth when the colder months call for it or if you wish to explore some more extreme environments.
Portaloo:
If you'd like the extra convenience and privacy of a built-in portaloo in your campervan, we can install one that fits within the bespoke interior for a seamless finish. Offering you extra flexibility when on the road.
Tow Bar:
Thanks to the powerful and reliable engines of all our campervans, we can install tow bars for those looking to bring extra belongings, recreational vehicles, and much more.
Cycle Racks:
Our campervans can also come fitted with cycle racks, giving you extra storage space and the capacity to carry bicycles. Perfect for those looking for adventure off-road.
Ready to go?
Get in touch with us to book a viewing or discuss how we can help you!
Call us on (01243) 649087 or Email us at info@fscltd.uk
Over 60+ vehicles in stock!
We have a large turnover of vehicles and have many high-quality examples arriving on a regular basis, it is always best to come and see us in person or give us a call for information on our latest stock.
Come and visit us
We are always very happy to welcome you in person! However, to ensure that a member of the team will be available to assist you we do ask that you call us on (01243) 649087 or Email us at info@fscltd.co.uk
We look forward to seeing you soon!